One of the most commonly (and first!) asked questions is "What should we wear?".  Clothing choices can vary greatly depending on the look you're going for. First and foremost, you need to be comfortable – if you aren't comfortable in your clothes, it shows. Often I hear people reference certain things about themselves they don't like, and while I think everyone looks great all dressed for their beach portraits, I understand we are all critical of ourselves. The best thing to do is consider those things and choose your clothing accordingly. Don't like your arms, a shirt with sleeves (3/4 or long) might be a better option over a tank top or strapless dress. Remember that retouching after the fact is costly, so it's better to dress the way you want to look from the beginning. Instead of paying to have your bathing suit tan lines retouched out, consider wearing a shirt that covers them instead.
When it comes to style, you want to express who you are without being over the top. The point of a family portrait it to see you – the family. If you're hidden behind clashing colors, busy pattern, and large logos only the clothing stands out – not the people. We all see that jeans or khaki's and a white top seem to be the most popular. Generally speaking it's because it's easy and classic. Many family feel like that just isn't "them" and in those cases I encourage you to think outside of the box. Pick a color pallet that works with your location and dress everyone in a *variation* of that, not just the same.
With beach portraits, it's important to remember that light and simple work the best. The beach is a light place filled with white sand, blue sky, and and lots of tans and earth greens. Colors in the pastel family – blue, pink, yellow, purple all work great on the beach.
Here is a sample guide on coordinating the family, sticking to a blue theme, without having everyone dressed the same…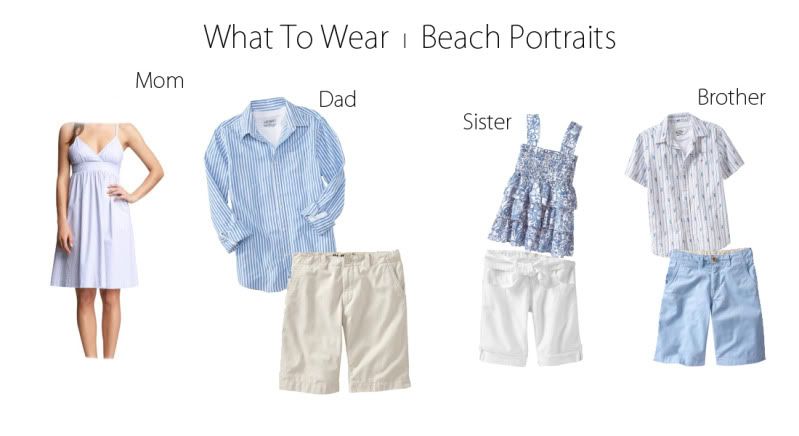 I encourage all my families to think outside of the box. At the end of the day these photos hang on YOUR walls so if you prefer something else, go for it!